Mar, 2023
ICU waiting room transformed for the comfort of families
Gold Coast Hospital Foundation has funded a major refurbishment of the Gold Coast University Hospital's Intensive Care Unit (ICU) waiting room, supporting more than 9,000 family members of critically ill or injured children and adults.
Each year, thousands of patients rely on the critical care of the ICU within the Gold Coast University Hospital. During this time, family and friends gather to visit and provide support. The experience can be emotional, exhausting and distressing for many of the patients' loved ones.
Gold Coast Hospital Foundation saw a need to support local families and improve the waiting experience in the ICU by transforming the space into a tranquil and calming environment.
The project, which was made possible thanks to the support of generous donors, included the interior design and fit out of the waiting area and three private family rooms, which includes all new tables and chairs, family-sized lounges, leafy green wall wraps, modern cabinetry and artwork.
The refurbishment will make a big impact for the community, with approximately 9350 visitors to the ICU expected to benefit from the project per year.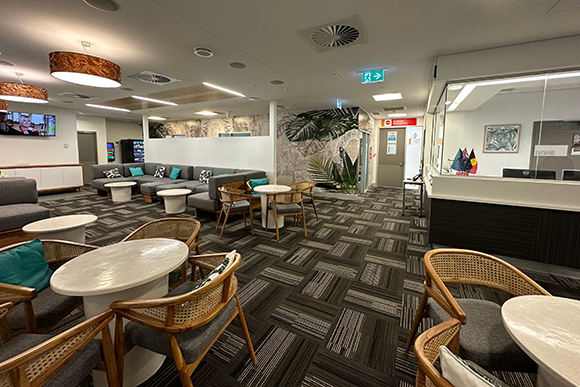 Gold Coast Hospital Foundation CEO, Ben Cox, said how important it is for patients and visitors of the ICU to have a safe and comforting space.
"The area needs positive distractions as the families and visitors often spend a much longer period of time waiting compared to other in-patient units," Mr Cox said.
"It's a highly emotional area where families and visitors are experiencing the worst time of their lives. If we can provide them with a more comfortable environment, this will certainly improve their waiting experience."
Gold Coast Hospital Foundation worked in partnership with local interior design company, Honu Designs to provide interior design and furniture for the space.
"By improving the waiting experience, we hope to provide comfort, calmness and a place of rest and reflection where the families and visitors will have an enhanced experience," Mr Cox said.