May, 2018
Little Lily had 2% chance of survival
When 18-month-old Lily was taken seriously ill with flu-like symptoms, mum Anita knew there was more to her condition than a virus the doctor had initially diagnosed.
With Lily showing no signs of improvement and dissatisfied with her initial diagnosis, Anita persisted. Even though the ordinarily-lively Gold Coast toddler was too young to put into words what was wrong, mum Anita knew her condition was serious.
On the second visit to her GP, Anita received news she hadn't even prepared to dread.
Lily had sepsis and, because of the delay in her diagnosis, the infection had already entered her bloodstream and had attached to her heart.
Worse news was to come.
Lily only had a 2% chance of survival and needed immediate open-heart surgery, quite literally as a matter of life or death.
Lily's case of sepsis was potentially devastating for the Gold Coast family, but sadly, theirs wasn't an isolated incident.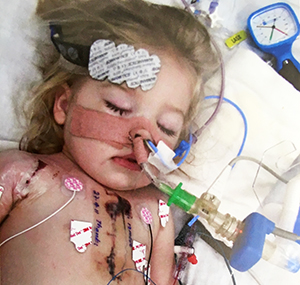 Every hour is critical for sepsis patients. The infection can take hold quickly and with devastating consequences. Unfortunately, using existing diagnostic techniques, results can take up to 48 hours. It's during this critical time-period where complications can arise, rendering treatment options much more complicated.
Dr Shane George, a Staff Specialist – Emergency Medicine and Paediatric Care at the Gold Coast University Hospital urging everyone to support research to help provide earlier diagnosis of sepsis (also known as septicaemia or blood positioning).
"Every hour delay in diagnosing sepsis increases mortality by 6%."
Across Australia and New Zealand more than 500 children are put on life support due to this infection every year. Sadly, despite optimal care 50 children die from sepsis every year. These are children who could be saved with improved diagnostic tests and treatment options. The World Health Organisation has recognised the urgent need for diagnosis and treatment for children with sepsis.
 A specialised two-year study of acutely ill children presenting with suspected sepsis to Gold Coast Health Emergency Departments and Paediatric Intensive Care Units (PICU) has engaged a Queensland-wide team of hospitals, health staff and researchers to investigating the potential of gene-expression-based sepsis tests. The aim of the research is to provide more accurate diagnosis of sepsis in children, quicker test results and deliver improved treatment.
Dr George says initial results show that gene-expression tests can give faster and more accurate diagnosis of infection compared to conventional testing, improving the chances of saving children's lives.
"The most promising approach to improving health outcomes for children with sepsis infection relies on a rapid diagnosis. Sepsis, once detected, is easily treated. But sepsis seems to disguise itself as other illnesses, delaying diagnosis," Dr George said.
"Unfortunately one of the major limitations in sepsis management is the delay in obtaining accurate diagnosis. Current conventional tests takes up to 48 hours to produce results often leading to inappropriate antibiotic administration, unnecessary hospitalisation, and increased risk of drug resistant bacteria if over-treated, and at worst, increased mortality. This is why medical research, funded by Gold Coast Hospital Foundation is vital."
With thanks to the generosity of Gold Coast donors, Gold Coast Hospital Foundation is funding a two-year state-wide research project that will assist in the early detection of sepsis and reduce potentially life-threatening complications that arise from the infection to help more Gold Coasters just like Lily.
We're delighted to let you know that even though brave Lily's life hung in the balance, she defied the bleak medical odds and has gone on to make a full recovery. Lily joined us on stage at this year's Hospital Heroes Ball to help us motivate our local community to get behind our health research program that is raising funds for cutting edge projects such as the rapid diagnosis of sepsis in children project.