Jun, 2023
Gold Coast Health correspondence officer to run marathon in inflatable doctor costume
Kate Morris is running the full 42km Gold Coast Marathon in an inflatable doctor costume to raise money for critically sick kids and adults in hospital.
Having worked at Gold Coast Health for 10 years, Kate is currently an Executive Correspondence Officer in the Corporate Affairs department, working on a variety of correspondence for consumer responses, internal memorandums, plus Ministerial briefs and statements for Parliament.
Kate has been running various distances in the Gold Coast Marathon since 2016 and this year she will turn heads in an inflatable costume as she tackles the gruelling 42km distance in support of Gold Coast Hospital Foundation.
"When I found out Gold Coast Hospital Foundation was the official charity partner this year, I decided I needed a medical themed costume. The costume I'm wearing is a doctor holding me and performing the Heimlich manoeuvre," Kate said.
"I may be walking more than running this year."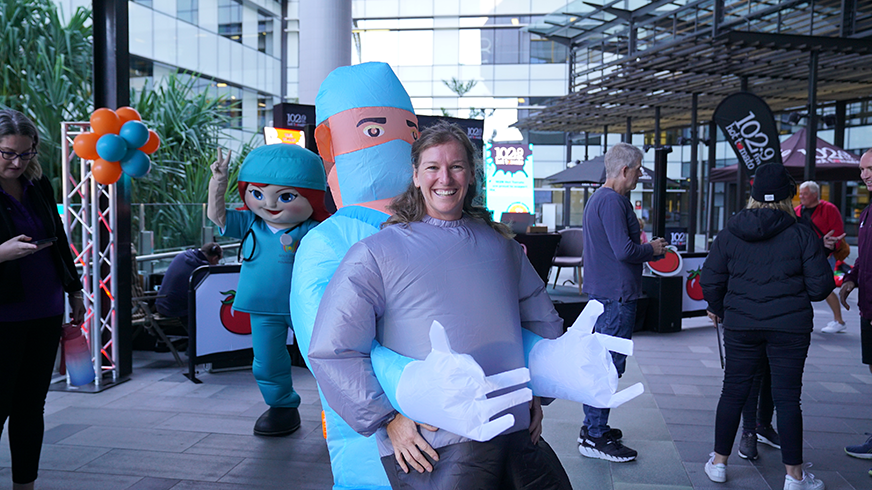 Kate has amassed an incredible 25 costumes at various marathon events. She's run in tutus, angel wings, a hula dancer costume, an inflatable unicorn costume and an inflatable T-Rex costume.
"I love a chance to run in costume. Running in costume makes it easier to identify as a fundraiser because it's a unique talking point and allows me to direct people to donate to the Foundation," she said.
"It certainly makes the run more fun. It's so good to see the reactions from spectators, especially kids on the sidelines when they see me coming in the costume."
This will be Kate's third year raising funds for Gold Coast Hospital Foundation.
"I use social media to encourage people to donate. I also wear my costume out in public at different times (much to my daughter's embarrassment) to raise awareness of the run and the amazing work the Foundation does," Kate said.
"This year I have laminated copies of a QR code, so it's easy for people to scan it and go direct to my fundraising page to donate. I'm still a little off my target of $1,500, however I'm hoping that I may be able to generate more donations this week."
Please donate now